Teachers, Parents & Children
Be Internet Legends
The team at Cognition Intelligence are champions of digital safety for our young people, having been involved in many internet investigations we have seen a host of resources.  We have chosen to sign post the Google partnership with Parent Zone as it is an education certified and lead, piece of work that can make a measurable difference to our young people.
To make the most of the internet, children need to make smart decisions.  Google worked in partnership with educators at Parent Zone, the PSHE Association and NCA CEOP Command to create the Be Internet Legends programme. It empowers younger children (From 7 to 11yr olds) to use the web safely and wisely, so they can be confident explorers of the online world.
Developed in partnership with Google & Parent Zone.  Parent Zone supports families & schools by creating expert information on all issues affecting children and young people that are caused or amplified by the internet.
For Parents: Be Internet Legends Code
Parents can get involved at home by encouraging the entire family to follow the Legends Code together.
Being an Internet Legend means being sharp, alert, secure, kind, and brave.
To demonstrate these qualities, Families can plan to stick to the guidelines set out in the code.
Internet Legends Pledge
Be Internet Legends Pledge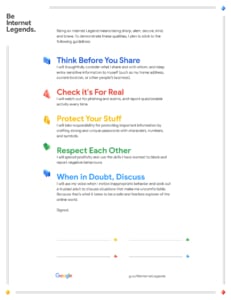 For Teachers: Digital Citizenship and Safety Course
Twelve 5 minute sessions for teachers
Every Day Is A School Day For An Internet Legend
Dedicated teachers are lifelong learners. With that in mind, Google have worked with Parent Zone and created a host of resources, including lesson plans for teachers to be able to deliver the The Be Internet Legends programme to their pupils.
Download The Internet Legends Lesson Plans Here: Lesson Plans
Further Guided Training Paths Just For Teachers
Whether you want to learn one new thing or to start the path to Google mastery, we've got you covered. The Google for Education training center has content to meet you where you are and get you where you want to be.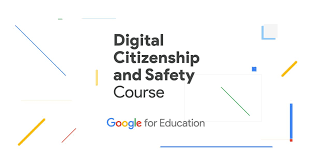 Distinguish yourself as an educator
You've spent the time growing your skills, now get certified to be recognised for the work you've done. Google offer two educator certifications so that you can show mastery at the level that's right for you. Use the content in the training center and your own teaching experience to best prepare you for the performance-based exams. Once you feel adequately prepared, exams are available online and the educator certifications can be achieved at any time.
Concerned About Something You Have Seen Online?
Visit The Internet Watch Foundation
Need To Talk?
Chat with a ChildLine counsellor about anything. It's a 1-2-1 session – so it's just you and Childline. They can give you help and support with whatever's worrying you.
Click here: Screen Chat With childline